The possibilities are endless with a portable stage, and our company is the leading provider of modular stage systems in Basingstoke.
We can help any event get off on the right foot with our secure frames and decks, which can be used to make versatile layouts to suit any needs.
All our stages are made to be compact and portable, allowing for easy setup and storage at the end of your event. We have worked with many clients over the years and provided stage kits to all kinds of locations, from primary schools to community centres.
If you are wanting to host a show or event, then you have come to the right place. With our tried and tested portable stage systems, it will be easier than you think to get everyone in the spotlight.
Contact our team today to learn more about what we offer and how we can help you in December 2023.
Why Use Us?
We are Basingstoke leading Multi Level staging experts with over 20 years of experience in the field. Over this time, we have worked with a range of clients, all focused on primary school children and aiming to give them a great experience.
Our modular stage systems are simple, safe, and compact, which makes them easy for everyone to use – even children. We have designed a unique multi level staging system incorporating a sound absorption solution (SAS).
This means that not only is our staging system quickly created and quickly dismantled, but it is also the quietest portable staging system on the market.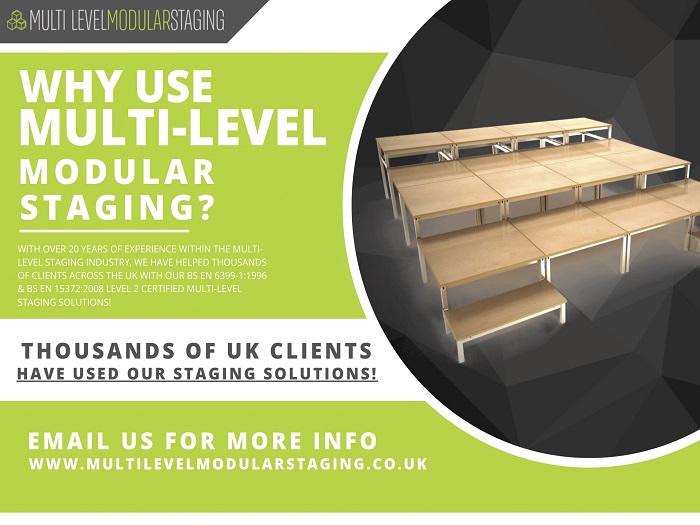 This means your event will not suffer any unnecessary noise caused by walking on the stage, giving everyone a chance to shine in the spotlight.
Our unique frames have undergone strict testing by FIRA and are certified to BS EN 6399-1:1996 and BS EN 15372:2008 level 2.
Safety is at the forefront of our core values which is why we have created a universal lock-in guardrail system for all our staging solutions to keep pupils, parents, and teachers safe when they are using them.
Member of Made in Britain Scheme:

We provide multi level temporary staging to school children across the UK, offering them a range of benefits. All of our stage systems are compact and portable, which makes them easy to set up and dismantle.
As well as this, our portable stage systems are:
Lightweight
Easy to assemble
Sturdy, hard-wearing, and secure
The same frames can be reconfigured in hundreds of ways
Perfectly flat, with no holes or bungs
No tools are required for assembly/disassembly
Fascia panels can be stained as required. A reversible carpet finish is also available on request. For any alternative finish, do not hesitate to get in touch with the team to see how we can help.
Our ideal stage systems are extremely popular with all kinds of Basingstoke clients, and we aim to provide the best service to every customer. We have a range of Flowstore systems available at all times to suit any venue.
Cost of Modular Multi-Level Staging Basingstoke
The average cost of portable staging in Basingstoke is £3,000 – £8,000.
Portable stages can be as low as £500, but they can also be as high as £20,000 based on your needs. Accessories can increase the price as well as bespoke requests such as an alternative finish for the panels.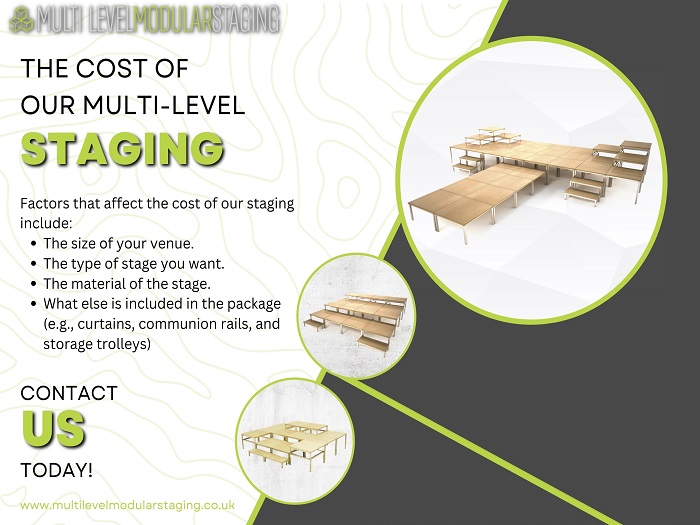 The cost of a modular stage depends on several factors, including:
The size of your venue.
The type of stage you want.
The material of the stage.
What else is included in the package (e.g., curtains, communion rails, and storage trolleys)
If you are looking for cost-effective modular stage systems, then you have come to the right place. To request a quote, contact us via our website today.
Where Is Staging Used/Installed?
Our quick and easy staging can be installed in a wide variety of areas. If you are hosting an event and need a stage, then you will want to try this portable stage system.
We have worked with all kinds of clients over the years, including:
Village halls
Community Centres
Fitness Classes (such as Zumba)
Corporate and Commercial Businesses
Nurseries and Pre-schools
Primary, Secondary Schools and Colleges
Drama, Dance, and Media Studios
Places of Worship (such as Churches, mosques, and synagogues)
Outdoor
Our Basingstoke stage system is highly versatile and can be used to support a range of performances.
This tried and tested portable stage has been used in all these locations over the years and continues to be an extremely popular stage due to how versatile it is.
Multi Level Staging for Schools Basingstoke
Our portable staging is the perfect solution for school stage productions and performances.
Many benefits come with using the ideal staging systems, all of which can benefit schools in Basingstoke and across the country. We understand that a school will have a limited budget, especially when it comes to school performances, but this does not mean that they can't put on a good show, as our Flowstore multi level staging systems make this possible.
Each staging system supports versatile layouts, which means you can make any stage you require from one simple starting point purchase of frames and decks.
This is easy to do as all our frames and decks are made to be quickly created and quickly dismantled, allowing everything to be done on-site. Our stage systems are compact and lightweight, making it easy for students to get involved too.
Our Flowstore systems are also portable, which makes them easy to store away at the end of the day. This is made even easier with our storage trolleys and other accessories, which are available on our website.
The main benefit to schools when they use ideal portable stage kits is that they are made for temporary use. This means that you can get the space back once the performance is over.
You do not need special tools or equipment to set up our multi level temporary staging, no matter the performance.
We have a large range of stage kits available to ensure we can meet all venue needs. As well as a good range of stage kits, we also have options for the finish and design.
We have options for various fascia panels in Basingstoke, including non-slip ones, as well as options for wood and aluminium construction. Our company also offers a range of accessories, such as curtains, communion rails, guard rails, and safety accessories, to meet all your needs.
With one simple starting point purchase, you have what you need to host a range of events and performances.
Modular Staging for Churches Basingstoke
Portable staging for churches is an affordable and flexible option as it supports versatile layouts with the same frames.
Our Flowstore systems are great for small groups, choirs, soloists, and instrumentalists, as they come in both standard heights and custom heights to suit your needs. We can even offer staging systems with different heights with our step units.
As our Basingstoke stage systems can be quickly created and are portable, the same frames can be used in many areas of your church facility.
They can be set up in the sanctuary for worship services or special events or moved into classrooms for seminars and Bible studies.
Portable stages can even be taken outside for community events or performances at local parks. We have a range of accessories available to support this, including non-slip panels and safety rails.
Multi Level Staging for Sale
Our company sells tried and tested portable stage systems for an affordable price.
Our portable staging is an affordable alternative to permanent stage risers as they are lightweight, easy to set up, and can be taken anywhere while creating the same effects.
There are three main types of portable stage risers: folding, platform, and telescopic.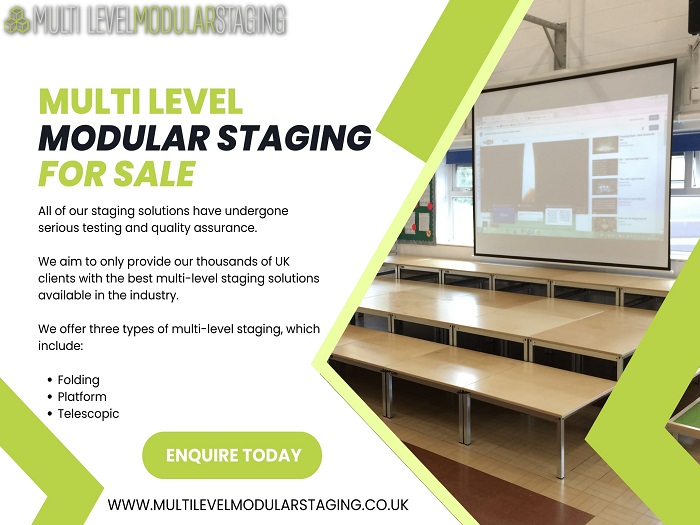 Folding stages are the most popular and are made from metal or wood.
Platform stages consist of a single platform that can be raised and lowered, whereas telescopic stages use a series of platforms that telescope into each other as they are raised.
Our stage systems can meet all of these needs and come at a great rate.
Check out our website or visit us in Zodiac Park.
Modular Staging for Rent
If you need a raised platform for a temporary time, then we can help as we also offer our stages for hire.
We make hiring portable staging easy as we offer a large range of products. This is a highly versatile option for clients.
If you are interested in hiring staging from us, contact us on our website, via our UK tel number, or visit us at Zodiac Park.
Advantages of Our Staging Systems
There are many benefits of our Modular Multi Level stages, including storage, durability, and versatility.
These products are extremely popular due to the following benefits:
Simple to Use and Store
Our modular staging comprises three principal components and is simple to assemble without tools.
These stages are the ideal solution when space is at a premium, as they store quickly and compactly on a transportable storage shuttle. This shuttle is slim enough to fit through a standard doorway.
We offer a wide range of portable staging options in Basingstoke, including:
Modular Staging Plus Module
This is the most popular choice for events that require high stability per square metre.
This is a lightweight fill solution for use in smaller spaces where critical portability or easy assembly and disassembly are required.
Extra strength and durability make this product ideal for use in any environment where extra load-bearing capacity is required.
Strong and Durable
Unistage is constructed from strong, robust steel frames and high-quality birch plywood decks, which means that they are incredibly durable. A standard frame and deck can support loads of 10 fully grown men.
All our Basingstoke products are fully guaranteed against faults in materials, manufacture, and workmanship for ten years from delivery.
No Noise on the Modular Stage Deck
Our modular staging is the most silent and smooth on the market. With our unique design, you will have a solid, smooth, and silent platform for your performance which gives anyone a chance to be in the spotlight.
The unique SAS system means there are no clunks, no squeaks, and no noise from performers on stage – other than what you want to be heard.
Lightweight
Our unique design allows our stages to be both lightweight and sturdy.
Achieving this has taken several years to get the perfect design, which shows that we do not sacrifice quality for convenience when designing our stages per your request.
Versatile
The versatility of our portable staging means that you can transform and change your stage from a simple podium for awards to a single-level stage for dance routines or to a multi-level, tiered arrangement for a school choir or orchestra system.
It is possible for a single set of staging to be used in one or multi-levels to allow for different types of performance. We also offer staging accessories, such as non-slip panels and safety rails.
Customer Service
Our team is here to help, and we take customer service incredibly seriously.
When you work with us, not only do you have access to high-quality and versatile staging but also ongoing advice. On delivery, we will demonstrate how to use the staging system and equipment to ensure everyone understands how it works.
If you have any issues with our equipment, do not hesitate to get in touch with us so we can help.
Care & Maintenance Recommendations
The staging should be thoroughly cleaned after each use with a damp cloth and mild soapy water to ensure longevity. It is important to avoid using bleach when cleaning the staging and make sure to not fill it.
Afterwards, clean the deck thoroughly and let it dry before storing it away.
How can I store my staging?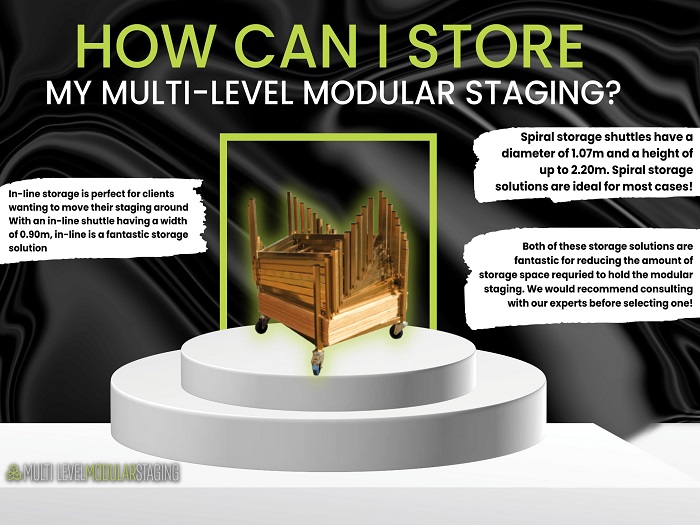 Our standard staging sets come with spiral stack shuttles in Basingstoke, which can hold up to 24 decks and frames.
Spiral Storage
With a diameter of 1.07m and a height of up to 2.20m, spiral storage shuttles are ideal for most storage solutions.
In-line Storage
If you need to transport your staging through narrow areas and doorways, you might want to consider an in-line storage shuttle which has a width of only 0.90m.
You can see our products on our website or at our site in Zodiac Park.
Multi-Level Staging Design
Most manufacturers of modular staging in Basingstoke have holes or bungs in the decks.
Our unique location mechanism ensures the staging looks more aesthetically pleasing and further improves our unrivalled safety features, such as being non-slip.
Modular Staging Accessories
As part of our modular stage installation, we offer a range of accessories, including:
Drapes
Guardrails
Valances
Risers
Facias
Scenery flats
Proscenium arch
Storage drawers
Chair stops
Access ramps
Lecterns
Get in touch today via our UK telephone number or on our website to receive a copy of our latest brochure and create your bespoke performance platform design.
You can also visit us in person at Zodiac Park.
Modular Staging vs Drama Blocks
There are two main differences between modular staging and drama blocks, and this comes down to their weight.
Modular staging is lightweight, which makes it easy to set up, dismantle and store at the end of the show. As they are lightweight, they are also more portable.
However, drama blocks are heavier, which makes them difficult to move. While they may be cheaper than a stage system, they are not as compact or portable, which can cause issues.
Frequently Asked Questions
How Much Weight can your Modular Staging Handle?
A single Frame (@540mm height) is tested up to 675kg.
What is the Estimated Delivery Time?
Standard items can usually be delivered in 3-4 weeks.
Bespoke items can usually be dispatched in 8 weeks.
Do you Ship Internationally?
We can ship our products to most locations.
Please get in touch today for more information.
Get in Touch
We are a leading provider of multi level staging in Basingstoke.
If you are wanting to put on a show, then you need a reliable platform, and we can help.
To see what we have on offer and how we can help, please get in touch with us today.
Find More Info
Make sure you contact us today for a number of great multi-level modular stages in South East.
Here are some towns we cover near Basingstoke.
Hampshire
,
Tadley
,
Alton
,
Barking
What Others Say About Our Services
We absolutely love the service provided. Their approach is really friendly but professional. We went out to five different companies and found Multi-Level Modular Staging to be value for money and their service was by far the best. Thank you for your really awesome work, we will definitely be returning!
Luke Hayes
Hampshire
We have used Multi-Level Modular Staging for many years as they are certainly the best in the UK. The attention to detail and professional setup is what makes this company our go-to company for all our work. I highly recommend the team for the immense work - we highly recommend them!
Josh Ward
Hampshire
For more information on multi-level modular staging in Basingstoke, fill in the contact form below to receive a free quote today.